Welcome to White Rabbit CAD
Creating flat patterns has never been this easy, elegant and powerful.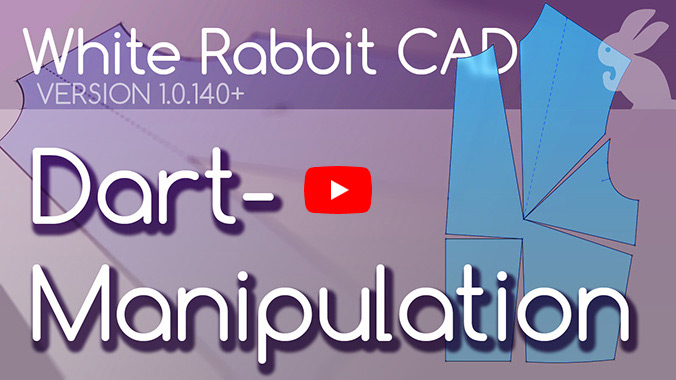 Dart Manipulation has never been this powerful and easy!
• Multiple darts can now share a single apex.
• Apex Offset allows to finish complex tasks quickly.
Watch the video on youtube to learn about working with Darts in White Rabbit CAD!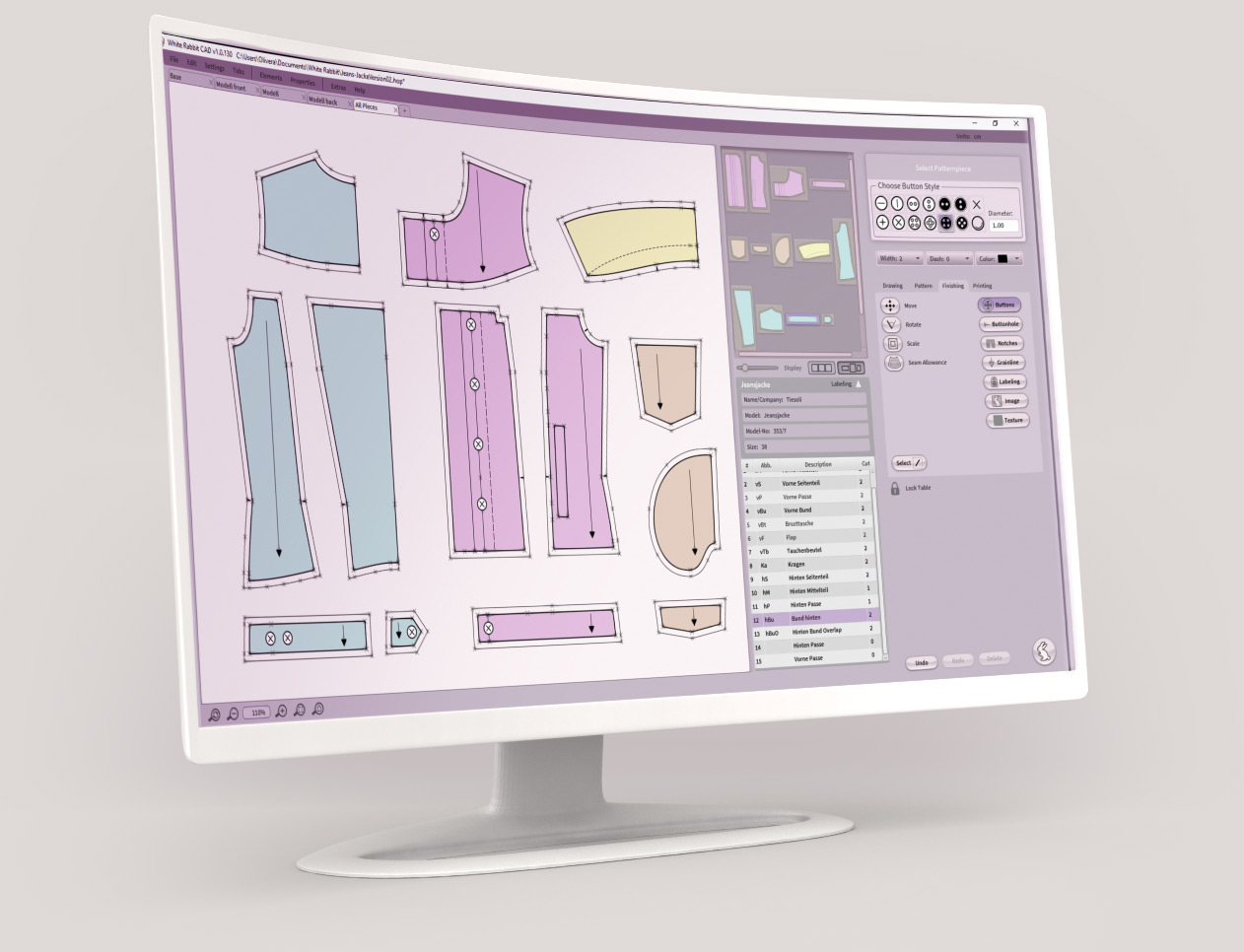 In Action
Slash & Pivot
Dart Transfer
Extract Patternpiece
Subscribe to White Rabbit CAD by visiting this website from your desktop computer.

A mobile version is in development.
---
---
Tools & Features
White Rabbit changes the world of pattern design.
Introducing a new paradigm for user interface and interaction, we're bringing the directness and freedom of working on paper into the digital world, so you may create your own workflow with the full power of the computer.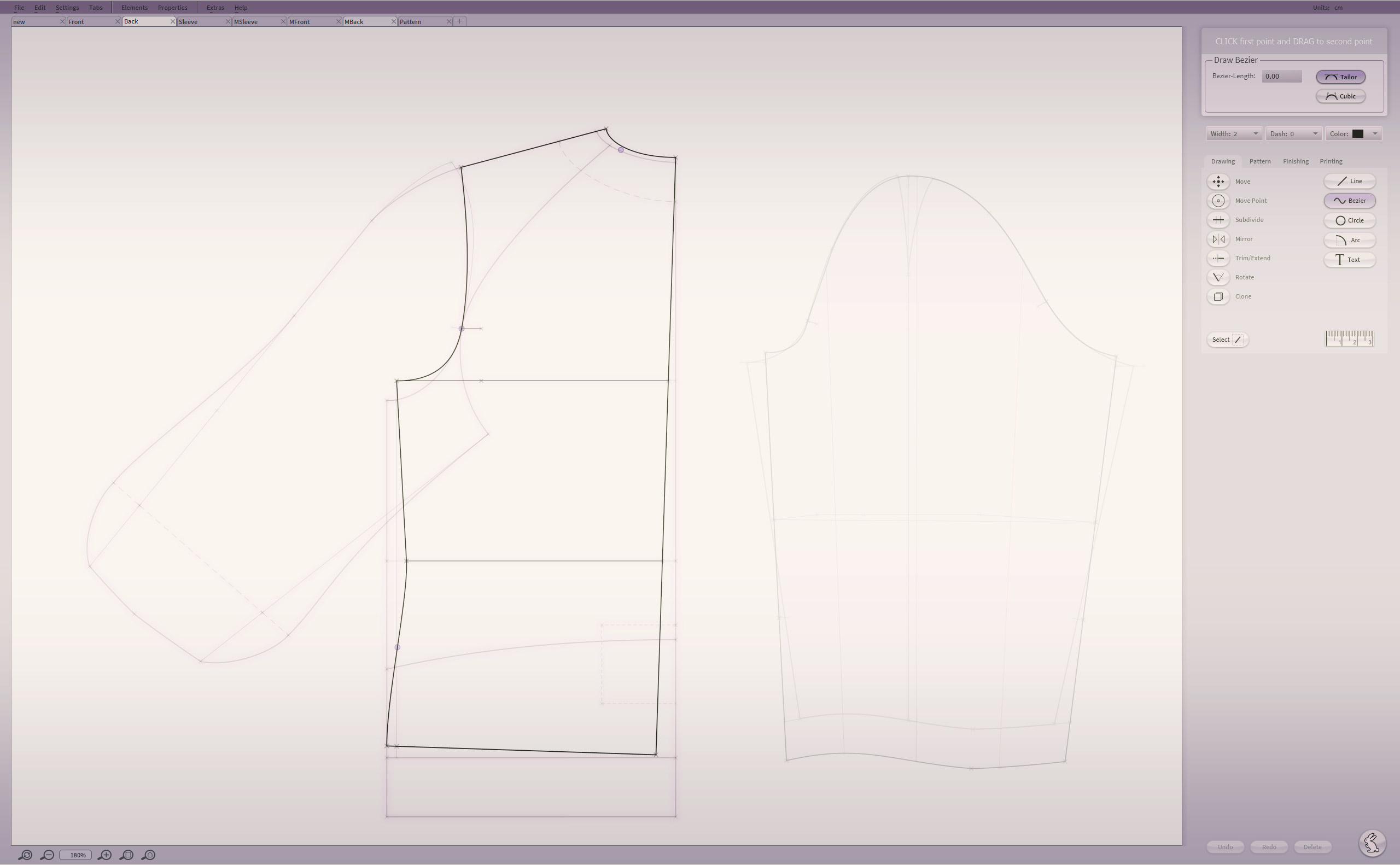 Tabs
Unlimited Tab system, including Lightbox functionality.
Tools & Units
Lines, Curves, Arcs, Circles and Text. Units [cm, mm, inch, fractional inch] can be switched at anytime.
Modifiers
Move, Move Point, Rotate, Scale, Mirror, Trim & Extend, Clone and Subdivide.
Pattern Tools
Extract Patternpieces, Add Markings, Cut, Dart Transfer, Slash & Spread, Slash & Pivot.
Finishing Tools
Seam Allowance, Buttons, Buttonholes, Notches, Grainline, Labeling, Images, Textures
Snap & Align is ever present via choice of mouse button, GUI toggle and hotkey.
Zoom & Pan at any moment, even while drawing or adjusting elements.
Undo & Redo work virtually on everything with only few exceptions.
Output
Print
All major paper formats are supported. Automatic Page Layout across multiple pages where needed. Single Page Overview.


Print to PDF
Creates a PDF based on your print settings.


Export PNG
Exports an image of your visible pattern with lossless compression.


Export DXF
Exports vectors in DXF format. Still a rudimentary implementation, but fully functional.


Export SVG
Exports vectors as SVG image. Includes options to optimize for target applications.


Special features
Tailor Curves
A new take on French Curves, which allows swift and precise definition of classic flat pattern curvatures.


Tracing Import
Unprecedented Tracing Features, allowing to import and align images (like photos) directly and easily to tools for exact dimensions right away.
Lightbox function to adjust visibility.


PDF Import
In addition to image import, you can import PDF documents, crop and arrange the pages and drop the resulting combined image into the drawing area for tracing.


Unit Switching
At anytime you may switch measuring units, automatically converting even from and to fractional inches.


Image Import
Additionally to labeling, you can add images- like your logo- and place them on your patternpieces.


Screenshots from macOS [El Capitan]
| | |
| --- | --- |
| | |
| | |
| --- | --- |
| | |
Philosophy
Creating flat patterns is a beautiful, yet, complicated mixture of art and engineering. A tool should support the process rather than adding another layer of complication to it. White Rabbit CAD is made with that in mind and won't get between your ideas and the lines to show them.
There are a number of different tasks associated with working on clothing patterns. White Rabbit CAD supports as many of them as possible to become a one-stop-solution for most situations. From creating patterns from scratch to tracing and reworking existing patterns, from printing them in a variety of ways to archiving them and even preparing patterns for sharing, there may be little to no need to involve any other application in the process.