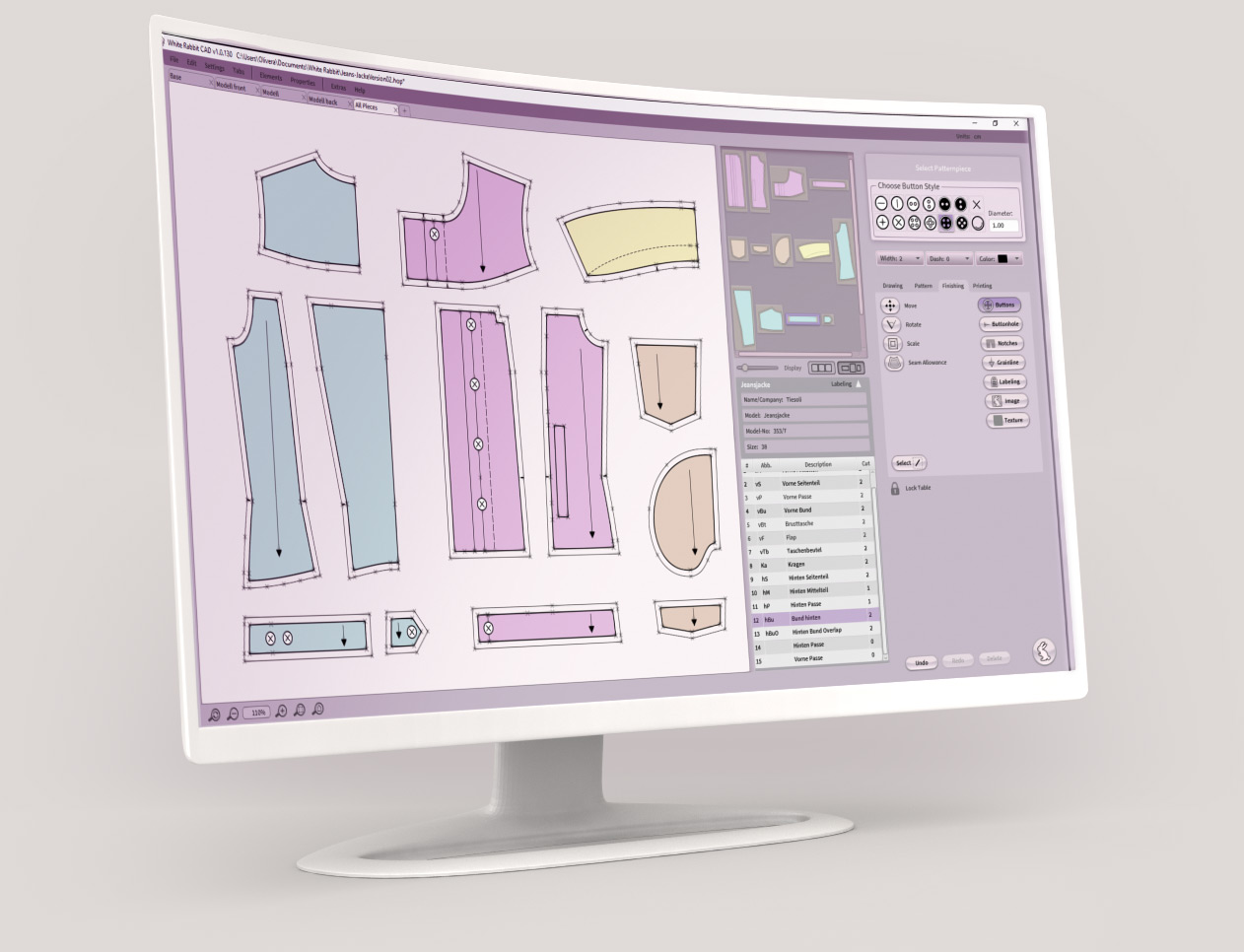 Drafting Flat Patterns With Ease
The #1 cross-platform CAD software on planet Earth that is actually a joy to construct garment patterns with
Highlights
Intuitive Drawing-Based Drafting
Measure, Trim and Subdivide Curves
Extract Pattern Pieces
Slash & Spread/Pivot
Dart Transfer & Truing
Innovative Grading
Export Layered Vector Based PDF
Import SVG, PNG and PDF
Over 100 Mini-Tutorial Videos included
...and so much more!
in Action
Example videos of working with White Rabbit CAD
Philosophy
Creating flat patterns is a beautiful, yet, complicated mixture of art and engineering. A tool should support the process rather than adding another layer of complication to it. White Rabbit CAD is made with that in mind and won't get between your ideas and the lines to show them.

There are a number of different tasks associated with working on clothing patterns. White Rabbit CAD supports as many of them as possible to become a one-stop-solution for most situations. From creating patterns from scratch to tracing and reworking existing patterns, from printing them in a variety of ways to archiving them and even preparing patterns for sharing, there may be little to no need to involve any other application in the process.
Year-of-the-Rabbit
Annual subscription model
240€/year
save 30% monthly
Export pattern pieces as OBJ files
Easy integration with 3D garment applications
Control level of detail
Arrange pattern pieces for export on the fly
Set units and scale as desired
Create gradings using leap values, variables and formulas
Freely create gradings based on two sizes
Interpolate or extrapolate to create size nesting
Set styles for each nested size (independent saving/loading of styles)
Use grading feature as design tool
Generate Layered Vector Based PDFs
Easily create and name layers and assign selected elements to them
Set all relevant meta data
Import layered PDFs
Use our visual assembler to reassamble and crop page based PDFS
Generate an image to use as backdrop and/or save as PNG or JPeg
Save/Load PDF assembler project
Fully functional in Free Demo Version
Color Themes
Classique - our signature theme for working in relaxed inspiration
Dorian - for a more neutral focus and clarity
Switch at any time for instant change
Language packs
Currently included are English, French, German and Spanish
Languages can be edited and added at any time
Switch at any time for instant change
❮
❯